What is the Shoot Natural™?
We came up with The Shoot Natural™ as a revolutionary way to learn how to shoot a basketball properly & naturally, without the use of any bands or unconventional techniques that many other shooting aids suggest. The Shoot Natural™ glove was designed to be worn on the off-hand to serve as a practice aid & prevent the shooter from "thumbing" the ball and applying too much pressure with the off-hand – which often results in a very inconsistent shot.
Practicing with the Shoot Natural™ glove facilitates the development of muscle memory which is needed for the shooter to shoot with more power & accuracy. Once the brain gets used to the off-hand not interfering with your shot & how a proper shot should FEEL, that's when the magic begins to happen.
How the Shoot Natural Was Invented
Rob Griffee has always been about basketball, from playing in his early years, to coaching his own children when they played in school. Unknowingly, Rob came up with the idea for the Shoot Natural glove over twenty years ago when he was playing in a game and broke his left thumb. Despite having his left arm in a cast from his thumb to his elbow, he just couldn't take a break, he had to keep playing.
After shooting the ball a few times with the cast on, he noticed interestingly how much better his shots felt than usual, and the results spoke for themselves. He was no slouch when it comes to his shooting form, but this felt even better. He had the cast on for six weeks, and he consistently shot better than he ever had before. After having the cast removed, his shooting form got even better and it stuck - as if taking all those shots with the cast on helped him improve.
Twenty years later, his son came up to him asking him for advice on how to improve his own shot. Rob started teaching him how to shoot, laying out every element of the proper shooting form & techniques that he knew, but his son still just couldn't get it down consistently…
He then remembered what happened twenty years ago and put two and two together. He taped a sock around his son's thumb & wrist and almost immediately they both started seeing positive results. The makeshift "cast" made an immediate improvement on his son's shot. It made him shoot straight with perfect rotation and follow-through. The idea worked like a charm… and that's when everything clicked: "Less feel, less pressure."
Rob realized he had something amazing that had never been taught before, and over the course of about 100 prototypes and many challenges… The Shoot Natural™ that you know today was born.
what the pros have to say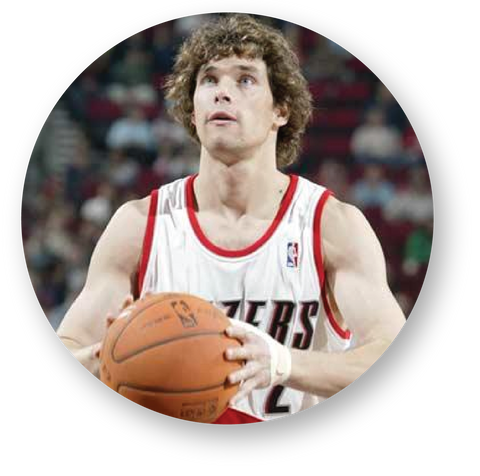 Dan Dickau
NCAA All-American and 6-Year NBA Professional
NBA veteran Dan Dickau, a first-round draft pick from Gonzaga who went on to play six years in the league, including a productive stint as a shooter for the New Orleans Hornets (now Pelicans), wholeheartedly endorses the Shoot Natural™ as an effective basketball training tool – not just for young players, but for players of all ages & skill levels.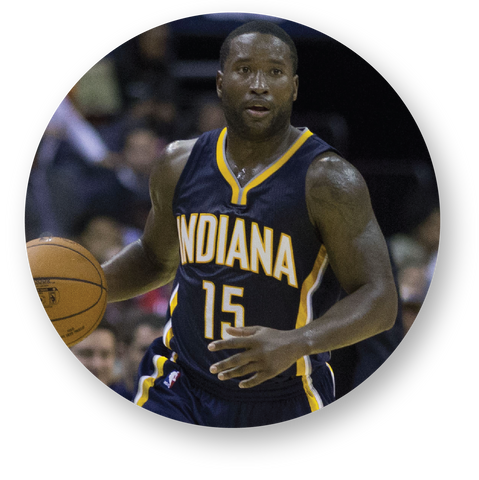 DONALD SLOAN
NBA Point Guard
Donald Sloan, who has played for five NBA teams throughout his career, has used the Shoot Natural™ glove to improve his shooting form. But we didn't give it to him… one of his coaches introduced him to it and it helped improve his 3-point percentage by almost 10% within a year. In the NBA, 10% is huge and that was the difference between him sitting the bench and getting real playing time & even starting many games.
Less pressure and feeling in the off-hand naturally transfers the pressure and feeling to the shooting hand, resulting in a shot with:
More

Power

Increased

Accuracy

improved

Stability

Smoother

Release
This all makes for a MORE DOMINANT one handed shot!
"My Name is Will & I have a 12 year old son who has been playing basketball since he was 5 years old. His favorite part of the game is shooting. He is well known in the AAU circuit as a knock down shooter but last season after changing his shooting form we encountered many instances where his shot would drift to the left and right.
After evaluating his shot I determined that he was what we call "Thumbing" the ball with his guide hand. I spent weeks looking for a tool to change this issue then I found the SHOOT NATURAL. This has not only corrected the issue but has made my son's shot much more consistent. This glove does exactly what it advertises. It's a great tool to not only improve your shot but to also teaches proper mechanics.
Thank you Shoot Natural for this wonderful product and helping my son become a more consistent shooter."
- Will Germain | Brooklyn, New York
"Thank you so much!!! Within 15 minutes the off hand interference was gone and I'm shooting just like a pro. This is the greatest basketball product I have ever had. I will definitely recommend this product!"
- Matt Lapine | Mundare, Canada
"Amazing quality! Helped me shoot better. Letting me have less grip of the ball with my guide hand and improving my dominant hand."
- Theresa N. | Verified Amazon Review
shoot around with us on
instagram